Earn Revenue by Reducing Electricity Consumption
Worth approximately $50,000/MW per year
Approximately 8-16 hours of curtailment required each year
No capital costs
Helps improve grid reliability in Ontario
Demand response (DR) in Ontario has been a valuable IESO
resource for over a decade.
What is Demand Response?
Ontario's demand response program will pay large electricity users to reduce electricity consumption during times of high electricity costs. This is an opportunity to control your operating expenses by reducing your energy expenditure. There is no cost to participate in this program, and Rodan Energy assumes all risks and provides the tools to make participation easy for our contributors. Rodan Energy bids its contributors into the IESO's DR auction and pays them for their availability and participation throughout the year.
Benefits of partnering with an aggregator
No Costs: Rodan takes on all expenses to get you registered to participate.
No Risk: Rodan provides financial guarantees to the IESO and assumes the risk of being a market participant.
No Administration: Rodan manages your participation in the program entirely and ensures full compliance.
Is My Facility Eligible?
If your facility can reduce consumption and use less energy for 1-4 hours at a time, then you could be eligible to participate and receive payments. Many DR contributors either use generation assets or interrupt their loads to participate in DR through a set curtailment plan. Rodan's engineers and data analysts will help you identify the right load target for you to maximize revenue. Rodan will work with you to develop the appropriate curtailment plan for your facility, allowing you to participate in a repeatable and consistent basis to maximize revenue. We'll make sure that DR is a sustainable, long-term energy-management strategy for your business.
Contact us today to find out if your facility is eligible for DR
Rodan Energy shares the risk with you through aggregation. There will never be financial penalties for participation, and you will never owe Rodan Energy or the IESO money.
Working with Rodan Energy is the best choice for Ontario businesses
Largest Provider: Trusted partner
Expertise: Participating since the market inception in 2006
Intelligent Enrollment: Our team of experts analyze load profiles and enroll businesses based on maximized earnings
Local: With Rodan's headquarters located right in Ontario, we are connected to numerous regulatory and government advisory boards. There is no one better to represent your interests than a trusted local partner.
Real-time energy monitoring and
demand response visualization tools!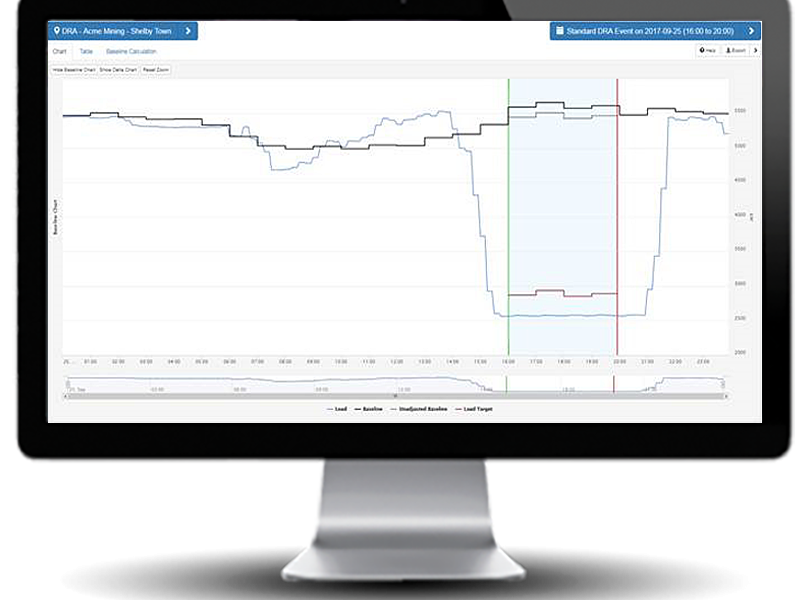 Rodan's Energy Intelligence Suite is a secure and web-based set of tools that enable our contributors to monitor their facility and the markets in real time. Our DR and Global Adjustment (GA) peak notification modules are powerful resources that provide facility managers with industry-leading insights.

Access to our demand response module is provided to our enrolled DR participants. The system collects facility electricity meter data, calculates DR program baselines, and tracks demand response performance through a variety of displays and downloadable reports.
Enroll with the industry leaders – join the Rodan team!