EnergentGHG
Greenhouse Gas reporting is becoming a common trend among many cities, provinces, states and industries. Recent studies have shown that an astounding 9 percent of customer's purchasing decisions are based on how 'Green' the business is, and how well they market this trait. It is assumed that this number will to continue to grow and therefore it is becoming increasingly imperative for companies to show what steps they have taken to increase the sustainability of their business.
Energent's GHG Module allows you to quickly report on or display the impact your facility has on GHG emissions. This module is excellent for engaging employees or setting up as a kiosk for passer-by's to see.
EnergentGHG (Greenhouse Gas) automatically collects energy use data, in real-time, and calculates the GHG emissions resulting from such energy usage.  Specifically, EnergentGHG will provide:
An intuitive dashboard that brings together vital GHG information in one location
Translate GHG emissions to equivalents
Include your emissions into the supply chain
Measure and Verify (M&V) your direct and indirect GHG emissions
Report progress to key stakeholders
Prepare for carbon trading opportunities
When used in conjunction with EnergentEM, this module calculates your energy usage's emissions and equivalents.
When EnergentET is installed, GHG becomes a much more powerful tool, providing your emission reductions and total savings, on top of GHG equivalents.
EnergentGHG
Features:

–        Measures and verifies greenhouse gas emissions (GHG)

–        Brings together vital GHG information in one location

–        Includes your emissions into the supply chain

Benefits:

–        Translates GHG emissions values to relatable equivalents

–        Prepares for carbon trading opportunities

–        Can be used in conjunction with EnergentEM and EnergentET
Dashboard
Energent's dashboard continues to lead the industry for energy monitoring solutions.  The fully configurable view, secure sign-on web portal gives access to vital information for energy and sustainability managers.  It provides a snapshot of current, real-time usage, including emissions, benchmarks, equivalents, and other key performance indicators that your organization wishes to make available.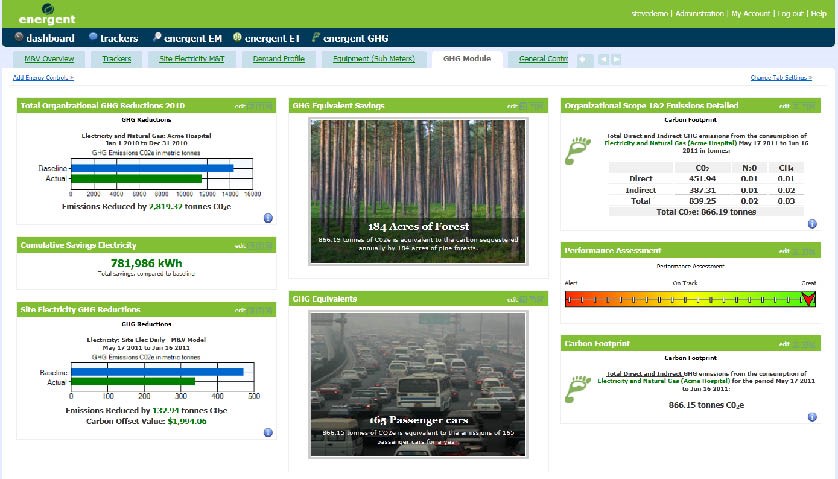 The Dashboard is your link to Energent's sophisticated reporting tool, giving access to information to drive important energy management decisions, and report to key stakeholders on specific projects.
Greenhouse Gas Equivalents
Greenhouse gas equivalents are a popular way for organizations to relate their impact on the environment in terms that are easily understood. EnergentGHG provides a real opportunity for organizations that are concerned about their environmental impact to accurately measure and display greenhouse gas emissions in a meaningful, succinct manner.