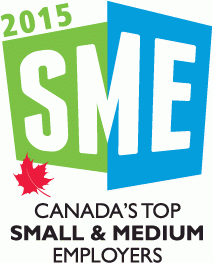 Mississauga, ON, Canada, March 10th, 2015 – Rodan Energy Solutions has been named one of Canada's Top Small and Medium Employers for 2015 by the editors of Canada's Top 100 Employers at Mediacorp Canada Inc. This notable award was the first of its kind to recognize exceptional workplaces among Canadian private sector enterprises with up to 500 employees. "As a growing company, it is wonderful to be recognized as a leading employer for our forward-thinking HR policies and exceptional workplace culture," said Paul Grod, President & CEO, Rodan Energy.
"Small and medium (SME's) play a very significant role in Canada's economy," says Tony Meehan, Publisher at Mediacorp. More than 90% of the Canadians who work in the private sector are employed by SME's, which are responsible for three-quarters of job creation in Canada over the past decade. "It's important for Canadians to learn what the most innovative SME's offer and to realize that smaller employers are capable of doing remarkable things for their employees."
Employers were evaluated on more than eight criteria: physical workplace, work atmosphere and social, health, financial and family benefits, vacation and time off, employee communications, performance management, training and skills development, and community involvement. The award will be accepted by Rodan's Vice President of Engineering & Metering Services, Gary Nunes and Director of Talent Acquisition & Strategic Initiatives, Natalie Van Vliet at Canada's Top Small & Medium Employers Award Reception later today.
About Rodan Energy Solutions
Rodan Energy is a leading smart grid integrator delivering energy solutions to electricity consumers, distributors and power producers. Combining its expertise in metering, data management and demand response, Rodan is helping to develop a sustainable energy future in North America.
Rodan Energy is headquartered in Mississauga and has offices in Calgary, Alberta and Texas, USA. For more information, please visit www.rodanenergy.com
For a list of current career opportunities, click here
[hr style="1″ margin="40px 0px 40px 0px"]